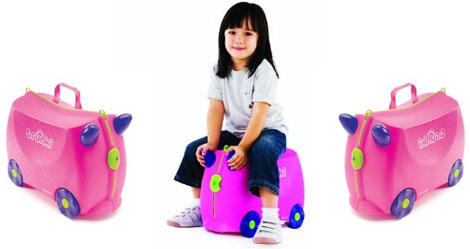 It's Trunki time again; Amazon are selling pink Trixie Trunkis for £21.98 instead of £29.99.
We've featured Trunkis so often here on PlayPennies that it's very tempting to write, "OI! Trixie Trunki on sale at Amazon - you know the rest!", add the usual 'thanks to bla bla bla at HUKD' blurb and move on to my next post.
I rather fear I wouldnt' be very popular with the boss if I did that though, so for those of you who DON'T know about Trunkis, here's the scoop.
They were infamously rejected as a viable money-making idea by the Dragons on Dragons' Den and have gone on to become something of a phenomenon - I do like it when the Dragons get it badly wrong.
They are little ride-on, pull-along suitcases for kids.
The pull-along bit saves their young shoulder joints, among others, from the stress of having to haul luggage around (I remember heaving a suitcase onto the bus and train when we went on holiday to Wales one year, a pull-along case of ANY size would have been great) and the ride-on bit saves their little legs when they're tired OR just makes for fun scooting around airport departures.
They conform to the current hand luggage limits and kids, and adults alike, LOVE them!
Thanks to packard at HUKD