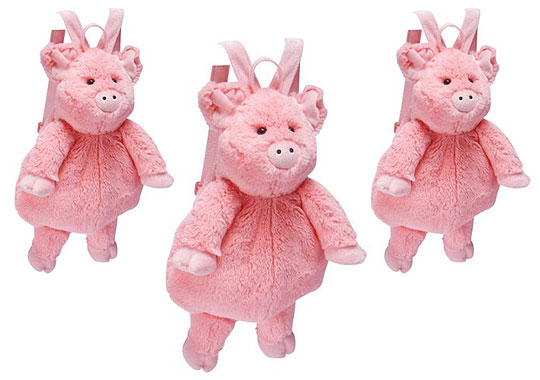 Back on the 2 February I told you about the Pillowhead Chubby Pig - he was properly cute, and now you can have a Pilowhead Pig backpack too, you can pick one up from Amazon for £3.99.
I would have loved this Pillowhead Pig backpack when I was little; I know my daughter would have gone mad for one too.  There are no reviews and there's not really a great deal I can tell you about him (I think he looks like a 'him') that you won't have already deduced for yourself:
He's a soft, pink and fluffy backpack that kids can carry things in - he'd make an ace pyjama/overnight bag for when your youngster goes and sleeps over somewhere.
I wouldn't recommend it for school - if your school doesn't have a 'you must have the standard issue backpack, emblazoned with the school emblem/motto, at significantly more cost than most other backpacks on the market' policy - as I can imagine your Pillowhead Pig backpack would get a little grubby, and I can't find anything anywhere to say whether or not he can be put in the washing machine.
For cute, cuddly and practical you won't go far wrong with this and delivery is free too.
Thanks to HotGBDeals at HUKD