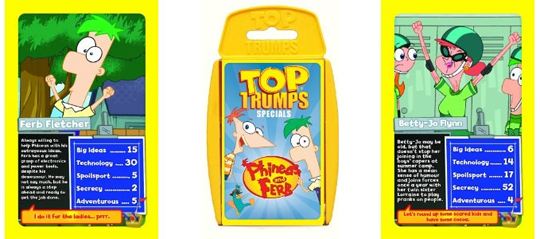 I'll 'fess up now - I don't know anything about Phineas and Ferb other than kids LOVE them.  I also know that kids love playing Top Trumps, so combing the two to make a set of Phineas and Ferb Top Trumps cards is a little stroke of genius (for some).
Amazon are currently selling sets of Phineas and Ferb Top Trumps for £2.24 rather than £3.99.
For years my mum bought the teenagers sets of Top Trump cards as Christmas stocking fillers; don't worry, I'm not suggesting you buy these Phineas and Ferb Top Trumps and stash them away for the next 283 days (that's how long it is until the next big C day by the way *grin*), my point is they didn't stop being something the kids played with endlessly for lots of years.
If you're not familiar with Top Trumps - here's a quick 101 for you:
Each card lists different categories relevant to the Top Trumps character set - in this case Phineas and Ferb - and has a number or a percentage rating.  The Top Trumps cards are equally divided among players and you have to hope the category you choose from your cards TRUMPS the category of your opponents because then you get to keep their cards.
So, let's say one of your cards has a score of 30 for 'technology - it's a pretty safe bet that it would trump everyone else's 'technology' score, so  you'd choose that category and TOP TRUMP them with that card; geddit?!
Lots of fun for not much money AND is a great way of teaching larger and smaller numbers with younger children, Top Trumps for the WIN in my book.
Thanks to lucerysmum at HUKD