Here's a lovely idea. From just £8 you can send a personalised, hand-picked box of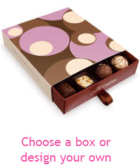 chocolates to someone special, in a box bearing your very own photograph!
First, you select the number of chocolates you want to send (starting at eight for £8 right up to sixty-four for £30). Then you just upload the picture you want to use, confirming that you have the right to use it. Next you can crop the picture, as well as choose a personalised message to pop inside your box of delights, and you can also choose from a wide range of colour options for the box itself. Lastly, you pick the individual chocolates that you want to include, and you can even tick to select just milk, dark, white, truffles or nutty options, or hand-pick an assortment.

For an extra £3.50 you can arrange to have the box gift-wrapped in organza, and even add a greetings card for £2.99. Standard delivery is £3.95 so if you're looking for a special way to brighten up a chocolate-lover's day or need to buy a gift but have left it a little late and need a speedy online solution, this is a really innovative option.