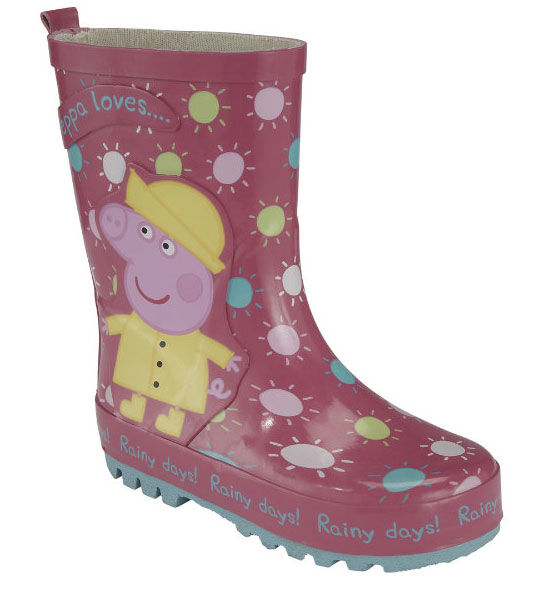 Mothercare are selling these rather fab' Peppa Pig wellies for £5 - their usual price is £12.
I like to be as optimistic as possible, I really do, but I can't help but feel we've seen the last of anything vaguely resembling hot summer weather and that it's time to get ready to crack open the wellies, hats, coats and scarves.
It consistently threw it down with rain in my part of the country yesterday, it was a proper 'put your wellies on and splash around in the puddles before going back to school next week' day!
I remember watching an episode of Peppa Pig where she and George did exactly that - I wonder if Peppa Pig wears her own Peppa Pig wellies...?
Anyway, I digress (as is often the case!) - the Peppa Pig wellies are available in little sizes 4 to 10 and there's a handy foot sizing guide you can print off from the Mothercare website and have your child stand on, so you exactly which size to get - or you could whisk them into your nearest Clarks, if you're passing, and have their feet measured there (other shoe shops are available *grin*).
Mothercare have thrown free delivery into the bargain too, so you won't have to pay anything extra to have your Peppa Pig wellies dropped off to your front door; marvellous!
Thanks to mx-3 at HUKD