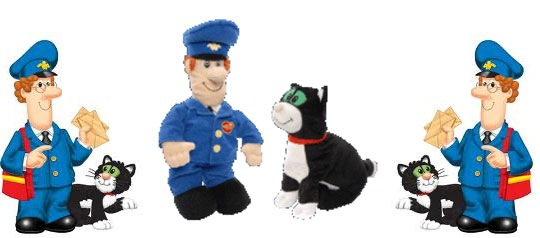 I think this Pat to Jess reversible plush toy looks really cute and cuddly and would make a fabulous little something for a young Postman Pat fan.
Postman Pat, along with Fireman Sam, had cult status in my senior school - you were NOT cool if you didn't watch either of the public service heroes when you got home from school and couldn't discuss them the following day.
I went to a school reunion back February and the Pat/Fireman Sam reminisces were being thrown around in earnest; I should have bought one of these Pat to Jess reversible plush toys to take along with me.
There's not a great deal I can tell you about this Pat and Jess that you won't have figured out for yourself - it's a plush toy that unfastens (probably with velcro) and can be turned inside out, and vice versa, to become either Jess or Pat.
There are no age guidelines for this Pat to Jess reversible toy but as it's plush, rather than having long fibres which can pose a choking hazard, I think you should be safe buying it for most young ages.
The original price for Pat to Jess,  or Jess to Pat if you prefer, was £14.99, but Amazon are letting them go for £9.50 and there's no delivery to pay either; hurrah!
Happy plush Pat and Jess reversing!