Pampers UnderJams Night Time Pants £11.52 @ Amazon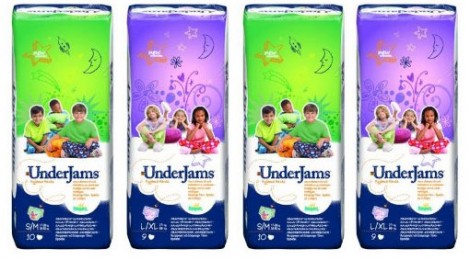 Amazon are currently selling all sizes of Pampers UnderJams night time pants for 45% less than the full retail price - either 36 or 40 in each pack for £11.52 instead of £20.54.
Bedwetting – it's a sensitive subject and we all know the last thing we should do as parents is get frustrated or angry about it.
We've read every 'Bedwetting 101′ guide there is and we know the psychology behind it, but at 3am when you're making beds and stripping soaking pyjamas off an upset child it can be difficult to keep all of that in the forefront of your mind.
UnderJams are made from a soft cloth-like material so they don't make that 'give away' rustling sound and they've been designed to look, feel AND fit like real underwear.
They pull on and off and have a low waistband just like ordinary pants, they have stretchy sides and are made from breathable material offering maximum comfort combined with maximum protection, thanks a good old absorbent core, with printed desgins and sizes for both boys and girls.
These Pampers UnderJams are great for providing security and comfort for your child during sleepovers, or if they're struggling to master the art of staying dry at night.
Thanks to Timbo_UK at HUKD