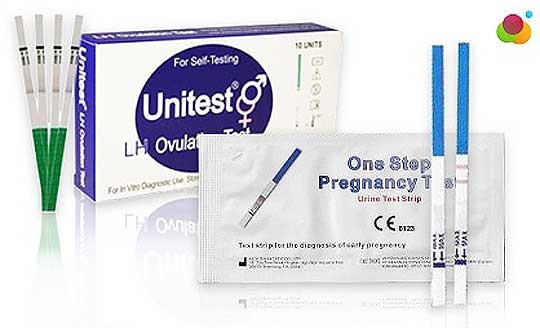 If you're about to set off, or are already on, the baby making trail then you might want to consider these two ovulation and pregnancy test packs, which are on offer via LyncMeUp: 30 ovulation plus two pregnancy tests are up for grabs for £16 (they're usually £32.99) or 50 ovulation and six preggo tests for £27 (usually £58.99).
SO, babies are on your horizon - congratualtions; I really hope you're not walking the 'trying for one' road for too long.
Whilst some couples seem to fall pregnant just by looking at each other, for some a little more planning and careful timing is required - enter ovulation and pregnancy tests.  It's not until you buy your first pregnancy test that you realise just how expensive they are - another very good reason for making sure you hit the fertilisation jackpot as quick as you can, otherwise you'll be looking at taking out a second mortgage!
These particular ovulation and preggo tests very sensitive: the ovulation tests detect the Luteinising Hormone - fertilisation is most likely to occur within 24 hours of this hormone surge - and achieved more than 99% accuracy in laboratory tests.
The pregnancy tests require just 10miu of hCG in your urine to be able to give you a positive result, and are used by NHS clinics, hospitals and your GP surgery.
You've got until 11.59pm this coming Sunday to take advantage of this offer; your voucher will be valid for one month thereafter, and delivery may take up to 21 days.
Happy 'baby bouncing' *wink*