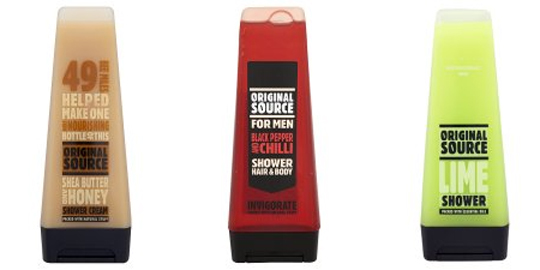 Tesco have a fair few half-price deals on most things Original Source shower gel, hair and body wash and hand wash until 12 March*; this is very good for me as my eldest son has decided to leave his Lynx body wash days behind him - HURRAH!
There is only so long a teenage boy can cling on to Lynx anything and, thankfully, the prospect of showering with a load of other Army soldiers has prompted a switch from that to Original Source; he's still experimenting with 'flavours' making these half-price deals on Original Source even more appealing!
When you say 'Original Source', most people automatically think Mint Source, at least I do, but there are some other rather less menthol versions; one that doesn't leave your men smelling like a packet of Polos is the rather interesting, and new, Black Pepper and Chilli hair and body wash!
There are various fruity Sources for girls and the rather delicious smelling Original Source Shea Butter shower gel and hand wash too.
Now, there are various deals with various expiry dates so pay attention:
The original price for Original Source shower gel and hand wash is £2.20.  There are...
Some which form part of a half-price Original Source deal (£1.10 each) - this deal expires on 12 March
Some on a buy any 5 for £4 which expires 11 March and
The Original Source hair and body washes are on a BOGOF deal, expiring 14 March.
Did you get all that?  Just click the link and it'll take you to two pages of Original Source deals and it will all become clear then.
Thanks NeilGY at HUKD