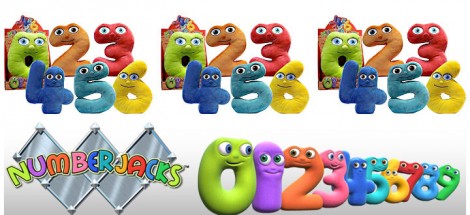 Sainsbury's are selling soft Numberjacks toys for half price; £4.99 instead of £9.99.
I wasn't sure about the Numberjacks when I watched it for the first few times with my youngest, but it's strangely compelling and I loved how it captivated his young attention span and really helped to develop a love of numbers.
If you have NO idea who the Numberjacks are, here's a quick Numberjacks 101.
The Numberjacks are ten small superhero numbers: 0, 1, 2, 3, 4, 5, 6, 7, 8, and 9 and for some unfathomable reason they live inside a sofa!
They just mooch around in there doing 'stuff' until they get a call from a child Agent, who lives on the outside, reporting a maths problem that needs solving.
One or two of the Numberjacks rush to the outside world to investigate and have to work out how to put things right, thwarting the big bad Meanies who want to cause number chaos.
Inevitably the Numberjacks always win the day and go back to their sofa where they wait patiently for the next emergency call to come in!
These soft Numberjack toys are suitable for all ages and are approximately 24cms tall and would be a rather fun way to teach your child numbers; get the set and you could use them as soft 'flash cards' or jumble them up and help your child arrange them in their Numberjack order.
Happy number learning!