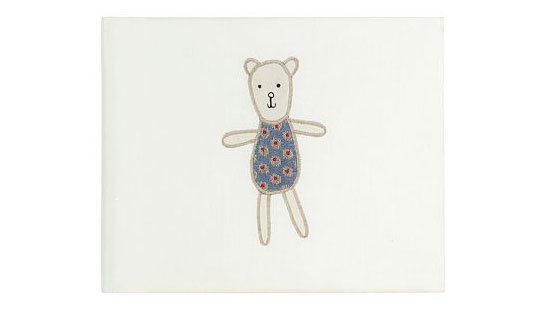 Debenhams are selling this VERY cute nkunkuBaby Bear embroidered photo album for £6 now, its original price was £20!
I've been shooting pictures since I was about eight years old.  I loved messing around with different film and you can't explain to kids of today the anticipation of waiting a week for them to be developed at Boots, let alone the advent of one-hour processing!
Digital photography has totally revolutionised how we shoot (mostly for the better) but it's also changed how we look at the photos we take.
When was the last time you sat down and chose your favourite photos to put into an album?  I'm guessing not for a while and that all the photos you take (the good, the bad and the ones that really should be deleted) are just sitting in My Pictures on your hard drive!
My  youngest turns six next month and his nickname is Bear - I'm going to buy this NKUNKU Baby Bear photo album with it's lovely embroidered front cover, choose my favourite photos taken of him and me thus far and give it to him for his birthday.
It's definitely time to reclaim a bit of the photographic 'old days'.
Thanks to Wadjet at HUKD