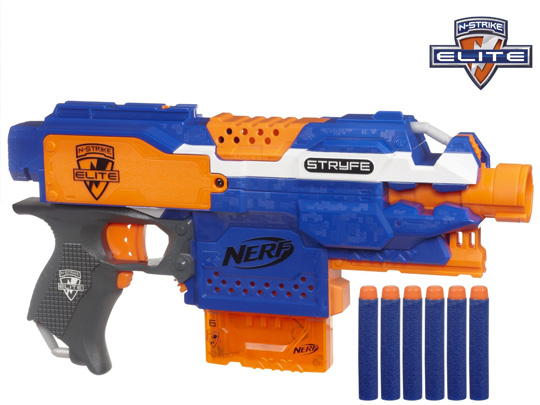 If you want to add another Nerf gun to your weaponry arsenal then get yourself over to Amazon - they're selling this Nerf N-Strike Elite Stryfe Blaster for £8.99, rather than £17.99.
Nerf guns are FUN! My youngest son loves them and you can always tell where he's been as there's invariably a Nerf dart trail left behind.
He particularly loves having Nerf shoot outs with his sister - she's a member of the Royal Horse Artillery, a crack shot on the rifle range (she'd make an incredibly good sniper!) and when she's on leave, the pair of them spend hours stalking each other around the house and gardens armed with various Nerf blasters.
I don't think Edward has one of these Nerf N-Strike Elite Stryfe Blasters; it's his birthday soon, I wonder if he'd want one?
It's a motorized semi-auto blasting version of the Stryfe blaster - hence being 'elite'.  The acceleration trigger powers up the motor for semi-auto action and the quick reload clip lets you reload fast and fire elite darts up to 75 feet with just one hand - I think he'll want one!
Thanks to youldyboy at HUKD