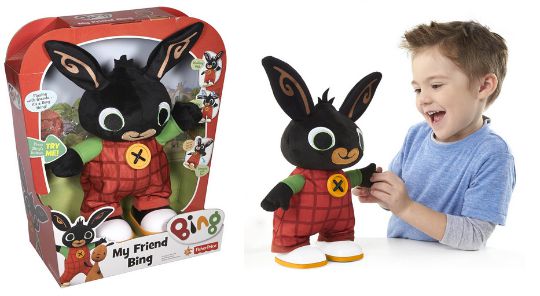 I am loving this Argos 3 for 2 toy offer, because it makes all the other retailers drop their prices to keep up. Amazon keep reducing the biggest selling toys by a third, and that means you don't even have to get three things to get the same offer as Argos!
This one is a cracker and will make lots of pre-schoolers very happy on Christmas day (if you can wait that long to give it to them!). My Friend Bing is reduced from £39.99 to £29.19, and that includes free delivery as well!
This is one of those deals that I get super excited about because I can just imagine my own children's reaction to getting one of these. My toddler adores Bing, and this toy would make his day. If you're thinking it's a lot for a big soft toy this is no ordinary soft toy - he's interactive so he can play with your child! He walks, talks and sings, and he can even wiggle his ears.
He can play games by getting his friend to run, tip toe, stand still like a statue and (my favourite) see who can be the quietest... He know when he has toppled over and will ask to be put up onto his feet again.
If this is on your child's Christmas list then it's a good idea to get it now as more than £10 off and free delivery is a great offer for him. I should probably say "it", but I can't - he's Bing!
You can still grab the Free Bing Printables here, and the small Bing Plush Toy* is also on offer at a teeny tiny £5.83.