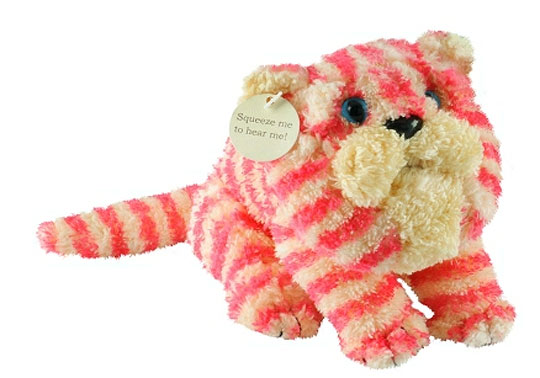 Ohhh my goodness I ADORE Bagpuss; he's like a nostalgic comfort blanket and just the thought of that dear old furry fat puss is enough to make me want to put my pyjamas back on, grab my Bagpuss DVD, toast some crumpets, cover them with syrup and just indulge on all things COMFORT.
I have a soft toy Bagpuss (actually my youngest does now, he inherited him early) but a muscial Bagpuss! Well that takes things to a whole new Bagpuss level doesn't it; he usually costs £9.50 but you can offer him a home for just £4.50 (delivery will cost you an additional £3.50).
Musical Bagpuss is suitable for anyone who's three years or older - plenty of grown ups have been bought a musical Bagpuss and love him, just as much as Emily did.
His battery is non-replaceable though, so at some point the Bagpuss music will stop playing when you squeeze him and he'll no longer yawn that famous yawn - but I don't care about that, you'd still have a saggy old cloth cat to cuddle for the rest of eternity and that is just lovely.
Thanks to slater86 at HUKD