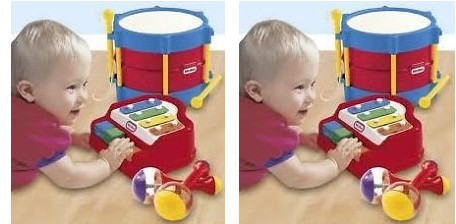 Tesco Direct are selling a Music Makers Gift Set for £12 - half the RRP of £24.
Children love to make music, don't they? From the earliest time, my little ones have loved rattles, banging things and generally, making 'music'.
This set includes a tap-a-tune piano, drum and a pair of maracas, all chunky colourful and robust, perfect for small hands.
According to the reviews from parents, this is great quality. A child minder says that these are incredibly robust and withstand many hours of much abuse.  The only criticism of the set is that the drum sticks are attached to the drum by a string. One person thought the string was too long and could prove dangerous, but two others thought the string was too short, and should be detachable.
Generally it was said to be value for money, however, so that's good especially at half price.
Thanks to mummytoothree at HUKD