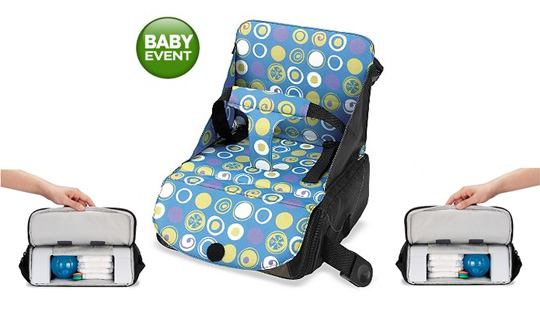 Asda Direct are selling this Munchkin Travel Booster Seat for £15 instead of £20.
There are four very good reasons why you should have this Munchkin Travel Booster Seat in your life
1) You won't have to try and cram your own high chair from home into the boot of your car every time you're off out to eat somewhere else.
2) This then means that you, or someone else, won't have to try and eat your dinner with your child sitting on your lap at the same time.
3) Your child can sit AT the table along with everyone else, which is much nicer than being at a distance from it in a highchair; which all means that
4) They're not having to endure the horror that is sitting in restuarant/cafe/most other public high chairs - I'm all for exposure to a bit of dirt and grime to boost the immune system, but I swear there are strains of bacteria in the nooks and crannies of these high chairs that could be used in deadly biological weapons!
This Munchkin Travel Booster Seat is rather ingenious in that it also doubles up as a small travel bag - inside there is space for all the things you'll need for a trip out: nappies, a bottle, wipes etc.
The seat itself has a safety harness and straps to securely attach it to a regular chair; the spec' also states that it has two height positions - I have no idea, from looking at the pictures, how it does that but that's what it says.
Thanks to misiekmati at HUKD