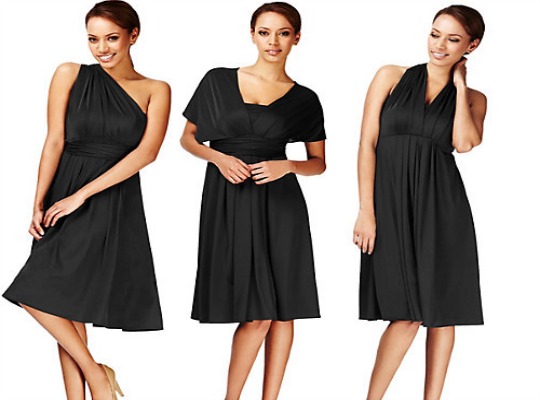 Picking bridesmaids is always tricky, you need to whittle down who you want and there ends up with someone's nose out of joint. Then you get to the choosing dresses part and oh boy, that's even worse. Unless you pick three (or however many) bridesmaids all the same dress size, shape and height, you are going to struggle to find one that suits them all. That is until you see this Multiway Bodice Skater Bridesmaid Dress from Marks and Spencer. The Black coloured one is reduced from £55 to £19.99. A BARGAIN!
The Multiway Bodice Skater Bridesmaid Dress is the easy option. It's so cleverly designed that it can be worn in at least THREE different ways: Halterneck, Strapless and One Shoulder. That means that all of your bridesmaids will be wearing the same dress but can wear it the way they feel most comfortable.
It's just the black coloured one that is £19.99 but there are also Carbon* (£23.99) and Dusky Rose* (£21.99) available.
Even if your not a bridesmaid this is on Little Black Dress that every woman need in their wardrobe. Three dresses in one, who could resist?
Available in sizes 8 to 18.
You can Click and Collect your Multiway Dress for FREE from a Marks and Spencer store near you or pay £3.50 for home delivery.