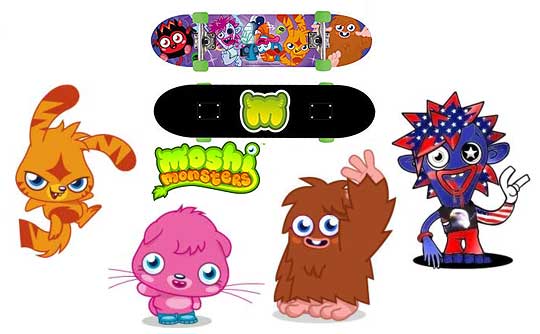 The other day I told you about a deal on Hello Kitty skateboards - great for the girls, rubbish for the boys, so here's a Moshi Monsters skateboard deal for you.
Although, girls love Moshlings just as much as boys, so this could work for both genders - especially if you don't have a particularly 'girly' girl who'd like to try their hand at skateboarding.
The top of this Moshi Monsters skateboard is black and just has a vivid lime green Moshi Monsters 'M' in the middle, the under side is where you'll find the bright craziness of various Moshling characters.
The board is approximately 31 inches long and the wheels are a bright vivid lime green colour too.  There's not much else I can tell you, other than investing in a pair of knee and elbow pads might be a good idea - along with a helmet, if you really want to push out the health and safety boat.  OR you can just take the approach my mum did when I was a kid, "Don't fall off!!"
Home Bargains are letting these Moshi Monsters skateboards go for £14.99, rather than £22.99, and if you live near a Home Bargains store you can arrange to collect your Moshi Monsters skateboard for free, otherwise home delivery will cost you an additional £2.95.
Happy Moshi Monsters skateboarding!