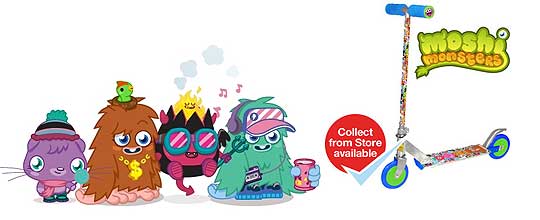 Home Bargains say the full retail price of this Moshi Monsters inline scooter is £49.99!  I don't believe that for one minute, surely no one in their right mind would even consider paying that for an inline scooter?
Whether or not that is the true retail price doesn't really matter, I suppose (other than I don't like feeling mislead), because they're actually selling it for £14.99.
Click HERE to take a look at the Moshi Monsters inline scooter
I remember when inline scooters first became the hot scooter to have; if you had a three-wheeled scooter, with big wheels, you were just NOT cool.  I also remember predicting they'd be just a fad and would, themselves, be very uncool before long - how wrong I was (thank goodness that doesn't happen very often!).
This Moshi Monsters inline scooter is suitable for young monster fans aged three years and older - right up until they weigh 50kg in fact! - and boasts the following features:
Adjustable and padded handlebars
Anti-slip footplate
Rear brakes (brakes on scooters, pah! Where's the fun and panic to be had, as you hurtle down the hill and can't stop, when you have brakes?!) and
Decorated top to bottom with Moshi Monster images
If you live locally to a Home Bargains store then you can pop in and collect your Moshi Monsters inline scooter for free (four days after you've placed your order), otherwise home delivery is going to cost you an additional £2.95.
Happy Moshi Monster scooting!