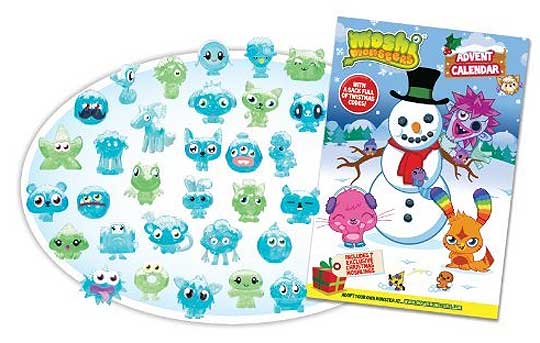 The advent calendar discount countdown is clearly ON! This Moshi Monsters advent calendar keeps dropping in price, little by little, and can now be nabbed for £19.99 instead of £24.99.
Well this is going to put the cat among the advent calendar pigeons in my family!  My youngest son, Edward, had a LEGO Star Wars advent calendar last year and loved it; I have a feeling that his dad may have already bought him this year's LEGO Star Wars version.
The thing is, Edward is also a huge Moshi Monsters fan and if he catches sight of this Moshi Monsters advent calendar then there could be 'trouble'.  You see, it's not just your bog standard advent calendar - there's a little Christmas Moshling character behind each door; seventeen of them will be dusted in snow and seven of them dressed up in Crimbo outfits.
If you know anything about Moshi Monsters at all, then you'll know the codes are just as important as the Moshlings themselves - this Moshi Monsters advent calendar comes with, and I quote, "a sack full of Twistmas codes."
The only thing you have to do now is decide:
1) Whether to wait and see if the price comes down more; or
2) Grab one now before they go out of stock across the country
I've played this advent calendar form of Russian Roulette before, BEST OF LUCK to you if you choose to wait!
Thanks to Syzable at HUKD