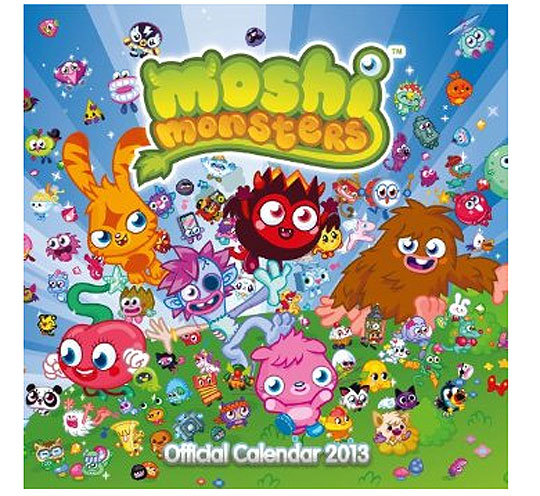 Amazon are selling Moshi Monsters 2013 calendars for £4 instead of £7.99.
My youngest son, Edward, is very into Moshi Monsters, his current favourites are his Moshi Monsters 'Rock' monsters - at least I think that's what they're called, I can't remember, but they're hard and rock-like instead of being soft and 'moshi'.
He'd like, and in fact needs, a Moshi Monsters 2013 calendar to hang up in the kitchen next to his dad's Gruffalo wallplanner (I'll be having one of those again for next year too, they've become a bit of a family instituiton) as he has THAT many activities and clubs to go to and he'd quite like to be responsible for tracking them.
He has Mad Science club on Mondays, film club on Tuesdays, Beavers on Wednesdays, nothing on Thursdays (yet), cricket on Fridays and football matches for the local under 7s footie team on Saturdays.  Then there are various parties and after school dinner invitations to keep track of - I tell you, his calendar and social life is more hectic than mine!
There's not really much to tell about the Moshi Monsters 2013 calendar - it's a calendar and it features 12 Moshi Monsters, one for each month, and has spaces for each day of each month so you can write your appointments and events in those spaces.
All of the usual Amazon delivery options are applicable.
Thanks to k8ie1980 at HUKD