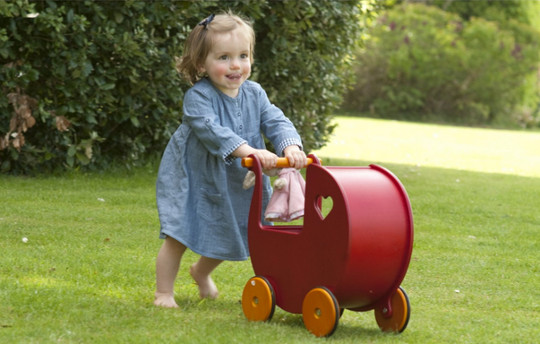 Amazon have a discount on Moovers Dolls Prams in red. They are selling them for £51.64 instead of £69.95, which is a 26% saving. (They also have the plain wood version for £59, which is a 16% saving). There's free delivery and these are sold by Amazon. The Moovers Dolls Pram is currently selling at £69.95 at other retailers.
My baby girl has never been in a pram in her life. We have such a good variety of slings and carriers that we've just never needed one, and with my eldest, we had a few pushchairs and strollers for reviews but we never really got into the habit of using them either. It's just not featured in our child-rearing life. Yet, somehow, both our girls know exactly what a pram is and what it does. Our oldest, especially, once saw a toy pram a friend of hers had, and she didn't let go of it all day. She loved it, and so much that we eventually bought her a small plastic pushchair, and she's spent the last two years carrying mainly Lego bricks around in it ;)
I will admit though, that I love these Movers prams. They're so Victorian, solid, and gorgeous. I'm a sucker for that. (Our first pram was a Silvercross and it was so big we couldn't get it up the stairs of our maisonette, which is why we went to slings in the end!)
Manufacturers recommend this pram for babies from six months up to about three years, as a toy, of course, and it is made from 98% Natural Wood 1% metal bolts 1% rubber tyres. The reviews on it are all really good, with a voting average of 5 out of 5 from 46 reviews.
Clearly it's not the cheapest toy pram on the market, but I suspect it will withstand a few kids, make a great walker, and can easily be an heirloom piece!