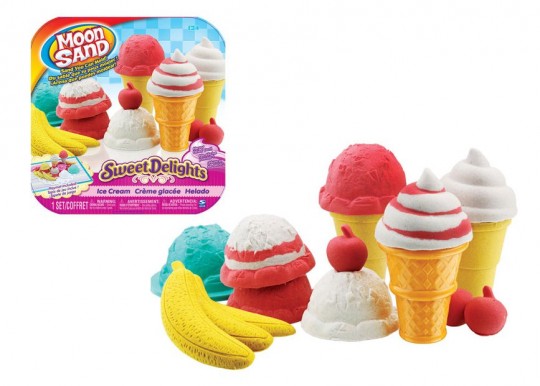 Offered at 25% less than the RRP, the Moon Sand Ice Cream Moulding Set at Argos is currently on sale for £6.99. It's no longer available for home delivery, so you'll have to find it in a sotre near you.
This is one of those deals that I'm writing with a full awareness that I will never buy the product myself, for the very reason that our HUKD members have mentionedon this thread. As Lefty says, "You buy, the kids try, you clear up the mess and bin it as soon as they're in bed." I must admit I've not progressed to quite that level of good motherhood yet – I just avoid the mess if I can.
But, if the kids love it, they love it, so if you can find Moon Sand for less, then that's a bargain.
With this Moon Sand you can make a visit to the ice cream parlour for a cornet with either scooped or whipped ice cream and add a cherry on top or as a special treat, create a banana split.
The set includes ice cream and fruit moulds, a themed play mat and three colours of Moon Sand.
If you're embracing the mess, enjoy!
Thanks to Garethsmith72 at HUKD