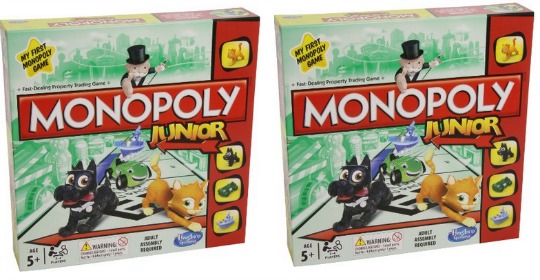 Monopoly is as popular as it has ever been. The original version is a bit too difficult for little ones, but the Junior one is just fine. If you visit Amazon today you can grab Monopoly Junior for just £8.54. The very same game is £11.98 at Asda Direct and £12.99 at Toys R Us.
I bet when you were little you were involved in some kind of Monopoly squabble. It's one of those games, that no-one wants to lose. The first argument will be over the tokens, this junior version comes with four. There's child friendly properties to purchase on the board like a candy shop and a pet shop. It can be played with just two players up to four.
Due to the fact you are using money, albeit fake money, this can really get small children's head around counting. This child's version comes with simple to work with, one dollar notes. If you can't wait for the day where your family is sat round the kitchen table playing the original Monopoly, then this will prepare your kids for the big game.
This Monopoly Junior is just short of the £10 threshold for Amazon's FREE Super Saver delivery. Add something like this Abney & Teal Neep to bump your order up.
Thanks to Keeleyc @ HUKD