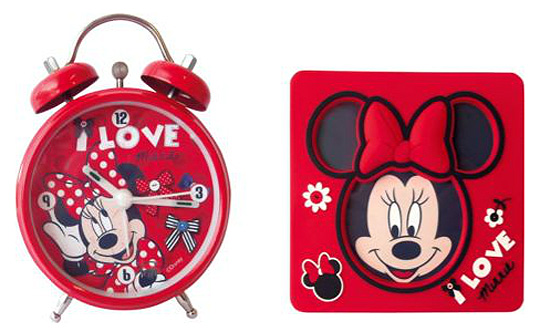 Argos are selling this Minnie Mouse clock and frame set for £3.99, its full price is usually £12.99.
I always thought Minnie Mouse was quite cute - she certainly irritated me much less than Daisy Duck!  I don't know what it was about her but, wow, she used to grate on my nerves.
I had an old fashioned two-bells-on-the-top alarm clock when I was small. I tell you, there was no chance of sleeping through the noise it made when it went off, AND it certainly got your heart racing - directly after these alarm clocks go off is definitely not the time to check your resting heart rate!
This Minnie Mouse alarm clock features a picture of Minnie on the face and only the numbers 12, 3, 6 and 9 - it's going to make learning to tell the time a little tricky, but if you already can then this won't be a problem at all.
You'll need to buy a AA battery for the clock and find a photo to put in the frame - other than that, you don't need anything else at all.
You can arrange to collect your Minnie Mouse clock and frame set from your local Argos store - if you need to search stock a little further afield than your nearest one, use www.icheckstock.co.uk to help you.
Thanks to mamaoftwo at HUKD