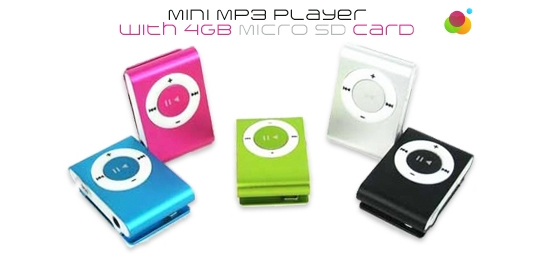 For the unitiated, LyncMeUp is another deal site like Groupon and they have a rather nice little mini MP3 player deal running for the next three days.
I love my iPod Nano (2nd gen', I think) it's old, battered and a bit bruised but it's my training friend and I wouldn't be without it. However, I'm sure there'll come a time when it gets tired and decides that enough is enough and will need to be replaced.
I don't actually need the camera and video function of my nano when I'm training, so I'd be pretty tempted by one of these mini MP3 players - it's tiny, it can clip to my clothes (much better than my current stashing of my nano in my bra!) and it can hold plenty of music despite it's small size,
These particular mini MP3 players come with a 4GB memory card which can hold up to 2000 songs - more training music than you can shake a stick at.  The battery life is about 15 hours, so unless you're planning on running ultra marathons, triathlons or are taking part in an Iron Man event, I don't think you have to worry about being without some tunes!
The usual price for these mini MP3 players is £39.99, you can pick one up through this LyncMeUp deal for £20 and it will also come with a mini USB cable and headphones; marvellous.
Simply buy your voucher and follow the instructions to redeem it when the deal finishes.
Happy mini music listening!