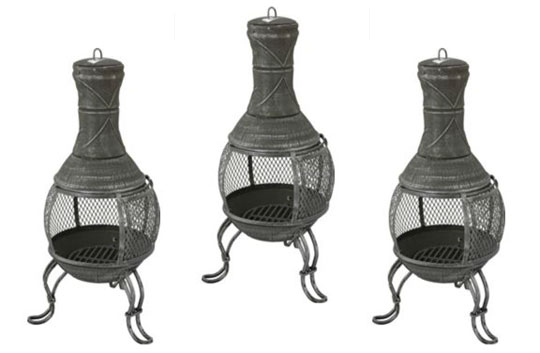 Argos are selling this mini cast iron chiminea for less than half price at the moment - its full price was £69.99, you can pick one up for £27.99.
I have very fond chiminea memories - I've had several over the years and adore them.  My teenagers will tell you tales of sitting outside in the garden, in pyjamas, drinking hot chocolate before bed on cooler evenings in front of a lovely hot and crackling chiminea.
They make for a lovely feature in the garden when they're not lit and are just wonderful to chat in a huddle around, when the evenings turn a little chilly.
It's only 88cm tall, so it won't dominate your garden landscape, weighs 11kg and comes in two parts that you'll need to put together.
We used to burn logs on ours, my ex-mother-in-law had a HUGE one that they could cook in so they used BBQ coals on theirs - baked potatoes cooked in the 'chimmy-doo', as she used to call it, were amazing!
Happy cosy chilly evenings around the 'chimmy-doo'