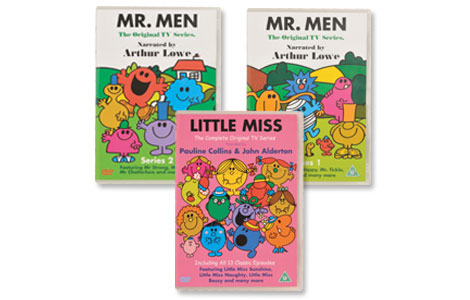 Readers Digest are selling the original Mr Men Series 1 and 2 and Complete Little Miss DVD collection for £9.99 at the moment, instead of £29.99.
I LOVED LOVE the Mr Men!
The one I remember reading most when, I was little, was Mr Forgetful and I still like reading it now – it's like an old friend.
"Farmer Giles, there's a goose asleep in the lane!" Poooor Mr Forgetful.
I also had Mr Bump and Mr Jelly too and I loved it when my mum read them to me at bedtime.
This DVD collection is the original TV series from the 70s and 80s.
Mr Silly, Mr Happy, Mr Tickle, Little Miss Bossy, Little Miss Shy, and more, all star in their own episodes and are MUCH better than the new Mr Men TV series that aired on kids TV a couple of years ago.
If you grew up with the original Mr Men shows you'll love this, chances are your kids will too.
Thanks to Andy000 at HUKD