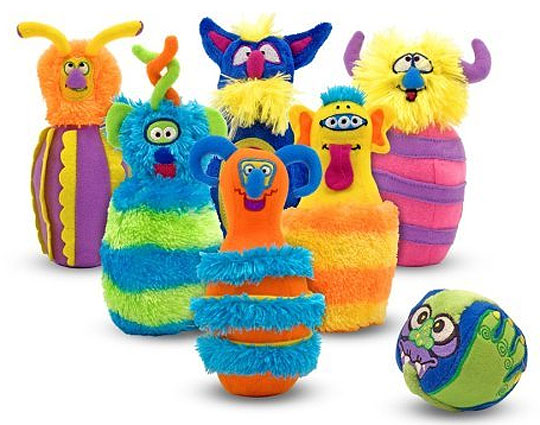 Amazon are selling this quirky looking Melissa & Doug Monster Bowling set for £17.42.  Now, the original price is £19.99, so the saving isn't massive - but, personally, I think they're worth every penny of the full price anyway.
I'm trying to cast my mind back as to whether it was my youngest son or my, now, 17-year-old daughter who had a soft toy bowls, like this Melissa & Doug Monster Bowling set, when they were small.
I can't remember, but I do remember we had hours and hours and hours of fun playing with them.  I'm rubbish at proper 10-pin bowling - if the aim of the game was to get the ball into the gulley along the side...I'd be KILLER at it! - but  am not too shabby when it comes to something like Monster Bowling.
There are six furry, fuzzy, funky Monster pins and a monster ball which come in their own zip up storage bag, for when you've finished playing.  Whilst Monster Bowling is going to be lots of fun, it's also going to be helping your child develop their hand-eye coordination and fine motor skills; marvellous.
Happy Monster Bowling!