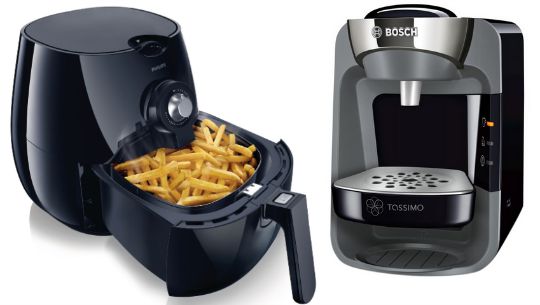 As it's a Bank Holiday Weekend, Currys have got some great 'Mega Offers' running. Sometimes, retailers like Currys heavily advertise such offers and they turn out to be mediocre at best. This time they are super and we are very excited about them. If you like a nice cup of coffee or yummy, crispy chips, then keep reading. Currys have reduced the PHILIPS HD9230/20 Viva Airfryer from £179.99 to just £79. That's £100.99 off! They also have slashed the price of the BOSCH Tassimo Suny TAS3202GB Hot Drinks Machine down from £119.99 to just £39, saving you £80.99! Oh and did I mention that delivery is absolutely FREE?
I have an Airfryer and I actually use it more than my oven now. Never do I add extra oil, when using it, but it never fails to produce hot, crispy foods. My favourite is Sweet Potato Chips in it, they are delicious! The Philips HD9230/20 Viva Airfryer is the updated version of the one I own. The reviews suggest it's as good, if not better.
It can take up to 0.8kg of food at any one time. We are a family of six, so sometimes we need to do two batches. It's not just frying, you can grill, bake and roast too.
I also own a Tassimo machine that gets used daily. It would be used even more than that if they brought the cost of the pods down. The Bosch Tassimo Suny TAS3202GB looks more stylish than most Pod Machines on the market.
Using intelligent Barcode technology, the coffee machine scans the barcode on the Tassimo Disc to register brewing time, temperature requirement and the amount of water needed. How clever is that?
You can Click and Collect both of these Mega Offer items for FREE from a Currys near you if delivery is not convenient.
Thanks to izzuddin101 @ HUKD