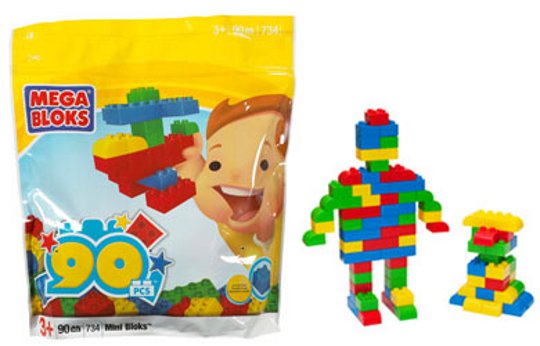 One of the myriad of offers currently available at The Entertainer is a Value Bag of Mega Bloks Mini with 90 pieces for £6 instead of £20.
I really need to go into a toy shop one of these fine days – if I can pull myself away from the computer long enough – and line up Mega Bloks, Mega Bloks Mini, Duplo and…. the other style that's available out there, and make a comparative list of the difference between them, because honestly, I have no idea.
We have Mega Bloks, which are fun, if a little less 'durable' than Duplo, which are fantastic, but more expensive. What on earth Mega Bloks Mini are, and where they fit in on the spectrum of blocks, I can't tell you. Whether they are interchangeable or compatible, I can't tell you either.  A real help, me. I know. (But feel free to leave a comment and let the rest of us know if you have experience with these things!)
What I can tell you is that the Bloks come in a variety of sizes, shapes and bright colours and that they can be kept in the resealable bag.