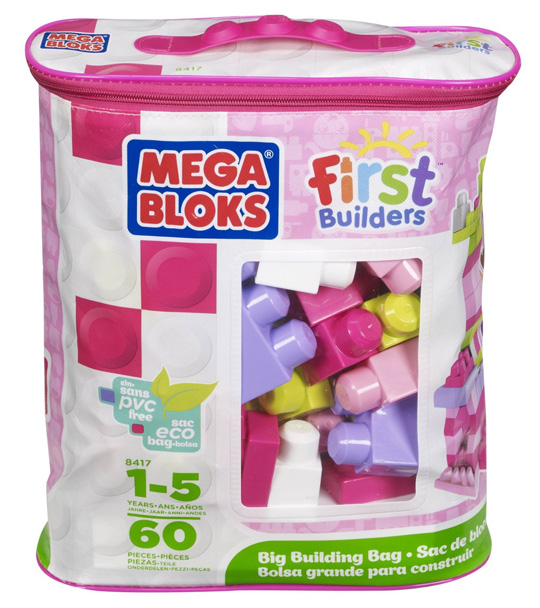 Amazon are selling bags of pink Mega Bloks Buildable Bags for £9.50, including free delivery - the usual price is £14.99.
From experience, and I have plenty, I can promise that this bag of Mega Bloks classic building blocks will be played with over and over and over again, for years and years and years to come - if you could work out how the cost per play, I'm sure they'd work out to be one of the best value toys you can buy.
The bag contains 60 Mega Blok pieces in bright purple and pink, they come in PVC-free packaging (if that's important to you) and are compatible with all the other Mega Bloks First Builders blocks, so you can easily extend your collection.
They're ideal for little ones aged one year and older, and if anything like all of my children, they'll spend many happy hours building towers and other kinds of Mega Blok creations.
Here are a couple of reviews for you to consider:
"Building blocks aren't just for boys, my little girl loves them! (She's 17 months) Brilliant for hand eye coordination, counting and learning colours :-)" 
"Although this does suggest 1-5 years of age I have these for my six month old. She absolutely loves playing with them and knocking over the towers that I build. The bag is great too, it means you can tidy these away where they'll stay clean and out of the way.
Great for learning about colours, a very durable multi use sort of product. Perfect size for small hands to grasp. It's also great if you have friends round with slightly older children. Brilliant way of entertaining quite a wide age range."
Thanks to thomascomer at HUKD