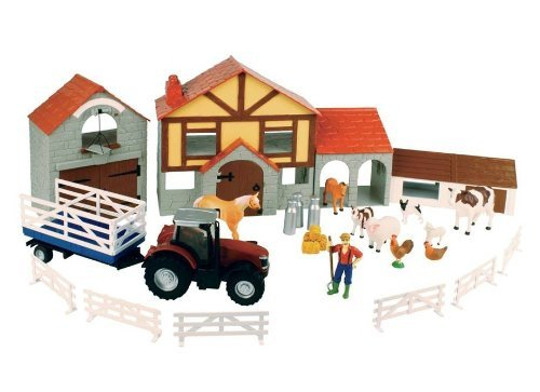 John Lewis has a pretty good looking reduced to clear section at the moment, with the Massey Ferguson Big Farm Set being my favourite thing there. Reduced from £39.95 to £19.98, it is currently £29.99 at Amazon plus £10 delivery. 
I love watching my kids play, especially when they really get lost in imagination and it's as if the world outside - the real world - isn't there, for a time.  We don't have a farm set yet, but I'm sure they would love it. They certainly enjoy the train city.
This Big Farm playset includes a replica Massey Ferguson MF8690 tractor with trailer and is complete with farm buildings and fencing to create your own perfect farm setting. Accessories include a barn, farm house, chicken coop, stable, trailer and farm animals, including a farmer, horses, cows, chicken, milk churns, hay bales and fencing. 
In essence, everything you need to create a perfect farm play area.