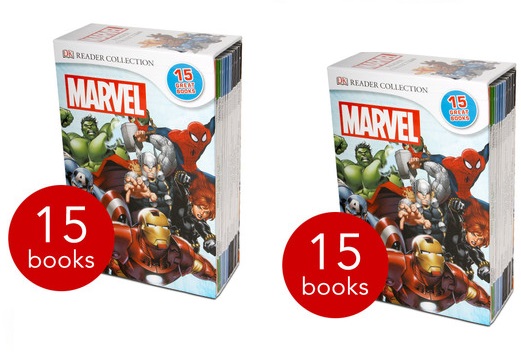 The Book People  is selling the Marvel Readers Collection of 15 books for £14.99, and if you use the code SPEND10 you'll get free delivery too. If you buy a few more items and go over £15 or £20 you can also use the codes WINGS or AFLEMON for 10% off your order.
I love books that are all about encouraging young people to read, and this is just such a set, as it's designed with early readers in mind. It contains facts, stats and artwork that's age-appropriate for children aged 5 and over, and is bright, bold and engaging.
Superhero fans will be fascinated as they learn how Peter Parker developed his powers to become the friendly neighbourhood Spider-Man, discover the story of the X-Men, meet the Fantastic Four and the Avengers - the Earth's mightiest heroes.
Titles in this collection include The X-Men School, Spider-Man Worst Enemies, Spider-Man The Amazing Story, Meet the X-Men,  Greatest Battles, Amazing Powers, Spider-Man Amazing Powers, X-Men How It All Began, Fantastic Four Evil Adversaries,The Story of Spider-Man, Fantastic Four The World's Greatest Superteam, Avengers Assemble, The World's Mightiest Super Hero Team, Iron Man Friends and Enemies, The Rise of Iron Man.
Personally, I think these would be super party bag fillers!
Thanks to edandhen at HUKD