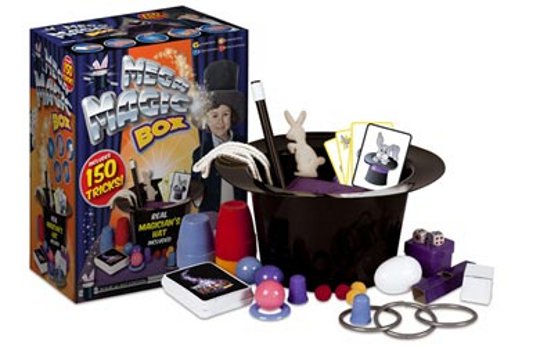 Coming up for that time of year, you can be sure we'll be binging you masses of toy deals every day now, and they'll all be great for one or another Christmas related thing. Like This Magic Hat 150 Tricks set from The Entertainer, reduced from £20 (apparently, but that seems really expensive!) to just £5.
See? Anything Christmas related.
Anyway, the Magic Hat 150 Tricks set contains "everything you need to be a real Magician". I'm sure the real magicians are thrilled.
I can't find a full list of contents, but apart from the obligatory top hat and wand, there's also a sponge rabbit – no feeding required – dice, thimbles, and rings. There are four pom poms and a 1.2m 'magic rope'. There's also a deck of card, and it seems as if quite a few of the tricks will be card tricks.
Delivery is £3.95, but you can also click and collect from your nearest store. This set is suitable from 10 years and up and although it doesn't say so in the description, it must come with a book of instructions too!