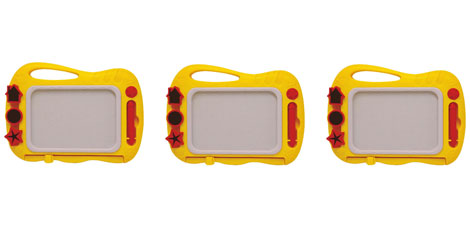 Here's a lovely cheap litttle deal for you; Tesco are selling this Magic Drawing Board for £2 instead of £4.
In a world where all the popular toys and games of the moment cost the earth, and require you to remortgage your house, it can be easy to overlook the simple toys like this magic drawing board which cost just a couple of quid.
You don't need a six-figure income to be able to afford it and I've yet to come across a child who doesn't enjoy playing with things like this magic drawing board.
It features an easy-writer pen that has both thick and thin stroke sizes.  You can slide the eraser knob across to erase and restart and it also comes with 3 different stamps and has a pen retrieval function.
Thinking 'green', you'll save yourself a fortune in paper and if your child creates a masterpiece you can always take a photograph of it and print it for them, and you won't be throwing away a ton of batteries at a terrifying rate because it doesn't need any; hurrah!
Toys like this magic drawing board are ideal for practising writing on too - all of my kids loved writing messages on theirs when they were little.
Finally, if you have a little tech' genius in your household  you could always spin this magic drawing board as an 'early iPad' *grin*
At two quid you REALLY don't want to pay £5 for home delivery so reserve one online and go and pick it up from your local Tesco; these magic drawing boards are only available until stocks last, so 'chop-chop' if you want one.
Thanks to lucerysmum at HUKD