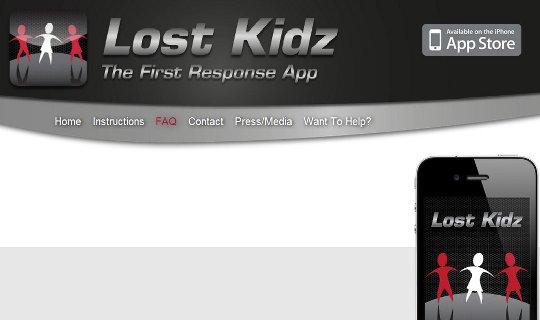 Lost Kidz is a first response App that you can use to alert people in your immediate vicinity that your child is missing. People can then be extra vigilant and if someone sees your little one wandering around alone or with someone else, they can let you know by call or text.
The basic concept behind Lost-Kidz is simple. The moment that you realise that your child is missing, you use the App to issue an alert to people in the vicinity asking them to look out for your child. The alert contains a current photo, location and time that your child went missing, along with any details which you have chosen to add to the alert such as a description of clothing. With the help of the App, in the vast majority of cases you will be re-united with your child in a short space of time, but as time passes, the App issues further alerts to an increasingly wider area.
When someone finds your child, or has information that they wish to pass on to assist the search, they can make immediate contact with the issuer of the alert using the contact button on the App.
When you have been re-united with your child, the App delivers a message to others in the area to confirm that the child has been returned safely
Our aim is to re-unite you with your child in the shortest possible time; reducing stress and anxiety and minimising the risk of accidental or intentional harm to your child.
You can download the App for free to be notified when a child goes missing, or upgrade and update your own child's details too.