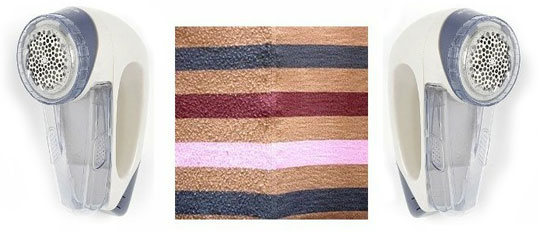 If you have clothes that are looking a little old and tired because they're now covered in bobbly bits, then you should take a look at this lint and bobble remover - I have a something similar and it's one of the best little gadgets I own.
I have a very long, black woolen cardigan (by long, I mean floor-length), I also have a three-quarter length duck-egg blue cashmere blend cardigan.  I love them both but, WOW, do they both bobble up like crazy, which really ruins their loveliness and makes them look cheap and nasty.
A quick run over with my amazing little de-bobbler machine and they look good as new - it's such a cheap little thing, that looks as though it should be next to useless, that's so efficient and fit for purpose I could gush endlessly about it.
I've had mine for years and wouldn't be without it!  It travels with me when I go away and I always know exactly where it is - did I mention that I LOVE it and that it's fabulous?!
If you have bobbles on anything - hats, coats, gloves, scarves, jumpers, trousers, blankets, school uniform, ANYTHING...just get one!  For all of £3.99, you can't go wrong and you won't be disappointed.
Thanks to dudebar at HUKD