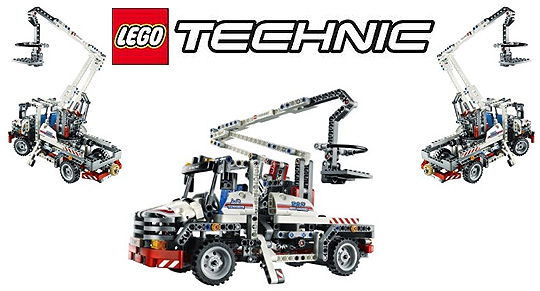 If you're a LEGO Technic fan and don't have the LEGO Technic Bucket Truck in your collection, then you should get yourself over to Amazon if you've got a spare £27.99, because that's what they're currently selling it for - its usual price is £40.99.
I really hope my youngest son doesn't grow out of LEGO for a very long time to come, otherwise I'm going to have to invent some other reason to legitimately play with it!
We were playing chess yesterday (well, I say 'playing' - it was more 'Edward made up his own rules whilst I had to play by the official ones' so that he would win) and the deal was: if I lost I got to help build a LEGO model and if I won...I still got to help build a LEGO model!
I can't wait for Edward to really get into LEGO Technic models like this Bucket Truck - it features working steering and when you've parked it where you want it, the outriggers can be moved into place for stabilisation.
The doors open, the arm bends and rotates and the entire model can be rebuilt into a tele-handler (whatever one of those is - something akin to a cherry picker perhaps!) giving you two models for the price of one - the not quite half price of one, in fact.
Happy Bucket Truck driving!