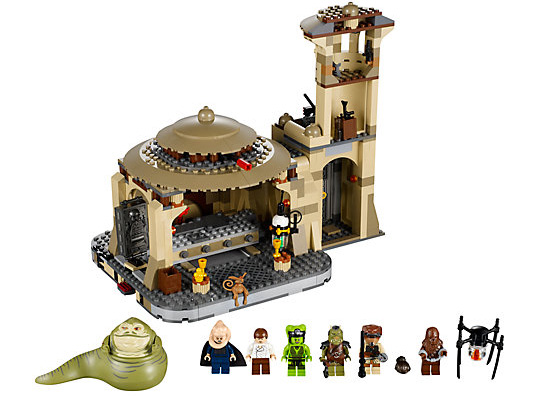 John Lewis are selling this LEGO Star Wars Jabba's Palace set for £67.50.  It's £99.99 over at Amazon at the moment - reduced down from £132 - and there's only one left in stock too! So if you're after a large LEGO set as a main birthday pressie for a young Star Wars fan, then this is worth snapping up.
This LEGO Star Wars Jabba's Palace set caused a right hoohah at the beginning of the year!  LEGO were accused of being racist, saying that the Palace was clearly a copy of the Hagia Sophia mosque in Istanbul - one of the world's most renowned mosques - and, thus, was massively offensive to Muslims.
LEGO were also accused of depicting Jabba as a terrorist - now he is a truly, vile creature and a nasty piece of work, but I'm not sure whether he can really be labelled as a terrorist. A 'slimy piece of worm-ridden filth', yes; terrorist, probably not.
LEGO were subsequently threatened with legal action unless they issued an apology which, to my knowledge, hasn't happened.  But what I do know, however, is that young LEGO Star Wars fans, over nine years old, will just love it because it's like Jabba's Palace in the movie - younger ones will love it too, but they'll really need some help putting it together, it's a massive set and won't be simple!
Along with all the bits and pieces required for the palace itself, the set comes with nine, yes nine minifigures, including: Jabba, Salacious Crumb, Bib Fortuna, Gamorrean Guard, Oola, Han Solo, Princess Leia in Boushh outfit, Chewbacca and B'omarr Monk. AWESOME, although I'm surprised that the Han Solo figure isn't encassed in carbonite.
Oh, and by the way, delivery is free if you don't fancy schleping to your nearest John Lewis to collect it.
Thanks to Edalduff at HUKD