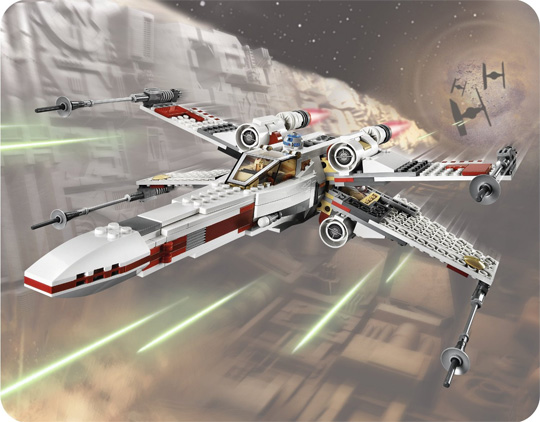 Amazon are selling this LEGO Star Wars X-Wing fighter for £29.98 instead of £49.99.
Well, how slack! I've just searched through LEGO Star Wars archives and discovered that this will be the first time we've ever written about the LEGO Star Wars X-Wing fighter *gasp*
It's one of the most iconic starfighters in the Rebellion fleet so how very remiss of us not to have featured it before - sorry LEGO Star Wars fans.  Anyway, here we go, boldly stepping on the path of redemption:
The LEGO Star Wars X-Wing fighter is just COOL and I want to build it! It features retractable landing gear, 2 proton torpedoes, opening cockpit and wings that fold into attack mode, that also have extra markings on them.
You'll also get four minifigures: Luke Skywalker, the newJek Porkins, R2-D2 and R5-D8 (R2 is still my absolute favourite Star Wars character), and those minifigures will be armed with one blaster and one lightsaber.
As always, with LEGO Star Wars models, the reviews are great:
This was bought as a birthday present for a nine year old Star Wars fan. It took him a few hours to build it but he was delighted with the final model. He has several models in the series but this is his favourite so far. It has been dismantled and reassembled several times.
Bought for my 5 year old son who is star wars crazy, easy to follow instructions, my son helped putting together, he thinks it is the best toy ever and I am pleased that it is fairly robust once put together. Money well spent.
I won't post any more, just know they're all pretty similar.
Thanks to BigBuds at HUKD