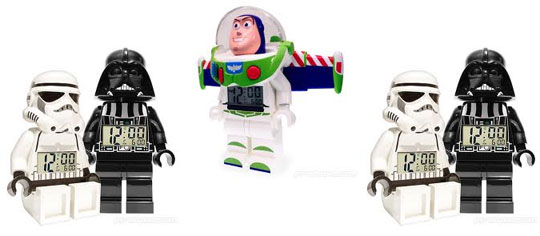 If you've been missing out on these LEGO Alarm Clocks - they do tend to fly out of stock pretty quickly - then hurry yourself over to Boots and pick up either a LEGO Darth Vadar, LEGO Stormtrooper or LEGO Buzz Lightyear alarm clock for £12.49, instead of their usual £24.99.
I bought my youngest a LEGO Star Wars Darth Vadar alarm clock for Christmas and he LOVES it.
It was a bit touch and go, though, for a while - he popped round with his dad for an impromptu visit and I hadn't put it away!  He spied it, asked if it was for him, before announcing, "I don't like alarm clocks, I don't want it!"
GREAT! Anyway, as it turns out, he loves alarm clocks - especially his Darth Vadar one and all is happy in the land of almost six-year-olds and LEGO Star Wars things.
The LEGO Star Wars alarm clocks have a digital LCD display with backlight and an AM/PM indicator; there's the all-important snooze function too and come with the two AAA batteries they need to operate.
You can arrange to collect your LEGO Star Wars alarm clocks in-store for free, or pay £2.95 for home delivery.
Thanks to Speculator at HUKD