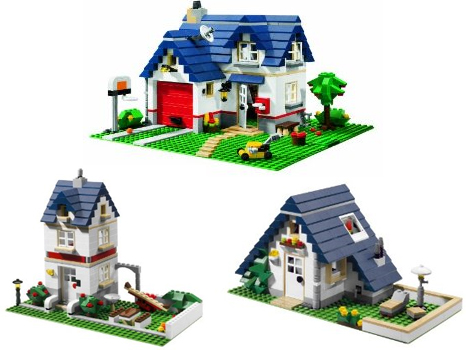 Amazon are offering a great price on the LEGO Creator Apple Tree House again - you can grab one for £27, at the moment, instead of £40.99.
The LEGO Creator Apple Tree House is so awesome that it always goes out of stock pretty quickly, or whatever triggers Amazon to put its price back up gets triggered and the deal is GONE - so if you've missed out in the past, don't dawdle this time!
Apple Tree House has to be the best real estate bargain on the market WORLDWIDE as you get three houses in one: a country home, a tall town house and a more relaxed summer holiday home for chilling out in.
The country home has an apple tree outside is full of fun and realistic details, including a working mail box with letters inside, a satellite dish on the roof, a basketball net and lawnmower, opening front and garage doors and a ladder up to the loft; there's also an outside light and a garden tap.
A total of 539 bricks and pieces and two green base plates make up Apple Tree House and the reviews from existing owners are rather grand.
Happy house building!