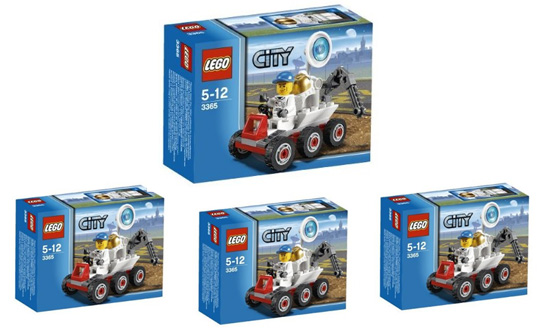 If you have a wannabe astronaut in your family, and they love LEGO, then head over to Amazon and pick them up a LEGO City Space Moon Buggy for £5.71.
Would you want to go into space and jump around on the moon? I like the idea of boinging around up there and being able to jump REALLY high, I just have this nagging fear that whispers, "But what if you couldn't get back?!" that puts me off somewhat.
I do like the idea of flying to the EDGE of space though - everything looks like space, you can see the Earth as you would from space and technically you are in space, but if you cut the engines of the craft you were in you, gravity would still be able to pull you back to the ground.
SO, it looks as though playing with this LEGO City Space Moon Buggy is as close as I'm going to get to roving around on the surface of the moon or other planets.
It's one of those great little LEGO sets that make ideal 'just because' or little 'well done!' pressies - it's cheap (on the grand scale of LEGO things), it's quick to put together (it only has 37 pieces) so you get almost instant LEGO gratification; marvellous!
Thanks to AugQX at HUKD