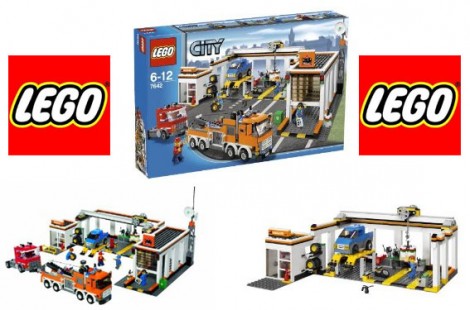 Amazon are selling this Lego City Garage for £58.42.
Now, it's difficult to give you a definitive FULL retail price on this Lego City Garage so you can judge how much of a saving you're making, because I've had a quick scout around the interweb and discovered various different higher selling prices:
Amazon say the rrp is £62.99 but John Lewis are selling it for £69.95 and Tesco for £62.97, so your guess is as good as mine!  All I know is much as I love Lego I object to paying through the nose for it, so any reasonable discount is great in my book.
This Lego City Garage comes with three vehicles, four mini figures and lots of other accessories and bits and pieces like spare tires.  There is an office building, a workshop and all of the various things that make up a working garage; I say working garage because the lifting platforms actually lift and the sliding doors actually slide.
I know that £58.42 is still a pretty hefty price, but it would make a great main present for a young Lego fan just turning six.
It also comes with rave reviews, here's just one of them:
"I bought this Lego City Garage for my son for his 6th Birthday. Both he and his Dad really enjoyed building it up together. (Would say that it would be a challenge for a 6 year old to build on their own) My son hasn't stopped playing with it since and whiles away the hours with his imaginative play.
The vehicles are great and the garage itself is not to big so doesn't have to be broken down to be put away. All in all, great fun!"