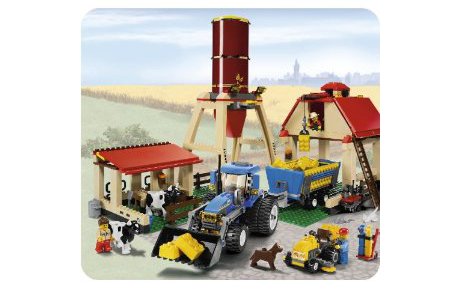 Amazon are selling Lego City Farm sets for £41.95 instead of its usual price of £61.99
There are a few guarantees in this world - night follows day and Lego will always be expensive and overpriced, so when sets like Lego City Farm are discounted by reasonable amounts it makes sense to snap them up.
My youngest and I love playing Lego together, it's amazing to watch his imagination running riot as he makes up all sorts of stories about the things we're making.
The scope for imaginative play is huge and with Lego City Farm your child can be the boss of all they survey and direct the farmer, and his helpers, to get the tractor and trailer ready for the big harvest.
There's always lots to do on a farm such as feed and milk the cows, empty the silo for market and store the fresh hay bales in the barn.
Of course, before you can do any of that you'll have to build the barn, cow shed, grain silo, riding mower and tractor along with the tilting wagon - that should keep you your child busy for a while!
The Lego City Farm set includes a cat and mouse, two cows, a dog, a farmer minifigure, a girl minifigure, a farmhand minifigure and other farmyard accessories.
The roof panels on the barn can be raised, the grain silo emptied adn you can use the winch and hook to move the hay bales or tilt the wagon too.
Thanks to spiderstu at HUKD