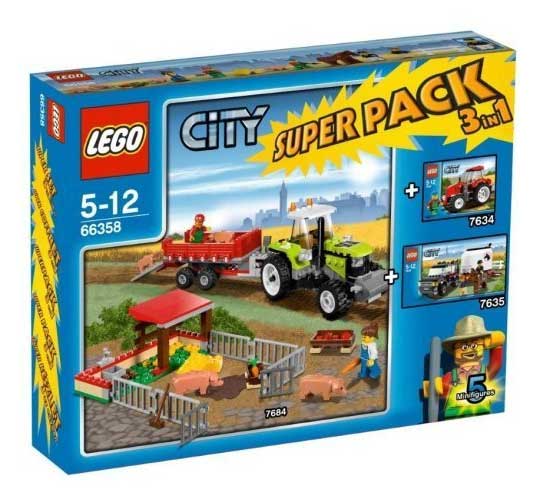 This absolutely has to be my deal of the day, let alone LEGO deal of the day - Home Bargains are letting these LEGO City 3-in-1 Farm super packs go for £49.99 instead of £99.99 (Amazon are currently selling this set for £75.50).
If you have a LEGO fan in your family then this LEGO City 3-in-1 Farm super pack is well worth taking a look at, buying and stashing away until Christmas time (which is a mere 92 days away now, just in case you think you still have months and months left to get yourself organised!).
Whether there's already an extensive LEGO City city under construction (that could do with a bit of a rural expansion) in your household or you've never dabbled with LEGO City before, isn't important - this LEGO City Farm super pack will just as easily stand alone as a collection or fit in with everything else LEGO City that you already have.
It features the 7634 Tractor, 7635 Four-wheel Drive with Horse Trailer and the 7684 Pig Farm and Tractor all adding up to a rather substantial 510 pieces plus five minifigures - everything any self-respecting LEGO City farmer requires.
If you live locally to a Home Bargains store then you'll be able to pop in and collect your LEGO City 3-in-1 Farm super pack for free; if you don't, or don't know anyone who does and can collect it for you, then home delivery will cost you between an additional 99 pence and £2.95.
Thanks to higsta at HUKD