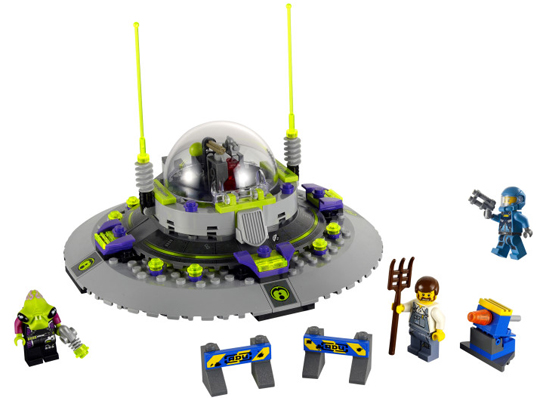 The usual price for this LEGO Alien Conquest UFO Abduction building set is £26, Debenhams are currently selling it for £7.99; a LEGO bargain I'm sure you'll agree!
I can't keep up!  What with LEGO Atlantis, LEGO Star Wars, LEGO Ninjago (I really don't get those!) the new LEGO mini Star Wars things (which look cute) and LEGO Alien Conquest, it can be impossible to know which of them to buy for any young LEGO fan!
My best advice, based on 117 years of LEGO buying experience?  Any and whichever is the cheapest at any given time! I daren't go near adding up all the money I've spent on LEGO over the years, I think it would just make me cry.
I have to say, the LEGO Alien Conquest bits and pieces are rather fun though.  This LEGO Alien Conquest UFO Abduction building set features an alien and his UFO, that has an illuminated tractor beam, who's out to abduct the farmer (HA! Tractor beam - farmer. Tractor - farmer, get it? Oh never mind) being protected by the Alien Defence Unit soldier - he has a flick missile launcher to shoot at the aforementioned alien abductor; it all sounds awesome and great for alien abduction role-play fun.
If you can wait for four days then Debenhams will deliver your LEGO Alien Conquest UFO Abduction building set for free, OR you can go and collect it in-store.
Thanks to tasi124 at HUKD