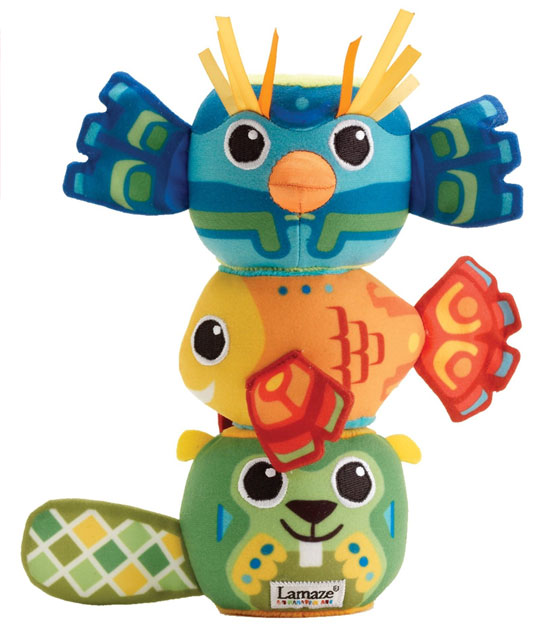 Tesco Direct are selling these Lamaze Totem Pole Stackers for £9.71 - their usual full retail price is £12.94.  Amazon say that price is £14.99 - they're currently matching Tesco's £9.71 price at the moment (or vice versa!) so you can buy them from there * if you prefer.
I'd happily pay full price for anything Lamaze - my mum bought my youngest son, Edward, a Lamaze Octotunes for Christmas a good few years ago.  It became a 'she' called Lamaisy, Edward loved her then and he still loves her now; any suggestions of passing her on to someone younger, for them to enjoy, is met with rather indignant and protective protest!
So you really won't go wrong with any Lamaze toys, and I have a particular soft spot for those that stack - successfully stacking stacking toys is incredibly satisfying, at least I think so.
These Lamaze Totem Pole Stackers are brightly coloured and patterned (as are all things Lamaze - to stimulate the sense, you see) and each totem character has a crinkle and a rattle inside.
They're magnetic, to ensure very little ones don't get frustrated and disheartened by not being able to stack them, and the reviews are great - well, it's Lamaze, so you wouldn't expect anything less:
We got given these as a present and my son adores them! Hours of fun stacking them, pulling them apart and playing with them individually! My son loves all the crinkley tags and hering them rattle as he shakes them. Also as they are soft there is no worry of him smacking himself in the head with them!

I bought this as the first Lamaze toy for my three month old niece. I've lost count of how many Lamaze toys my little two year old nephew has. This is great for my niece to hold and stack and I'm sure will get more use as she grows older. The stackers are nice and soft and the magnets aren't too strong and she will be able to pull them apart easily.

Great little toy, purchased for baby 4 months old. Entertaining and easy for little hands to hold, very pleased with this purchase.
So there you go - happy Lamaze stacking!