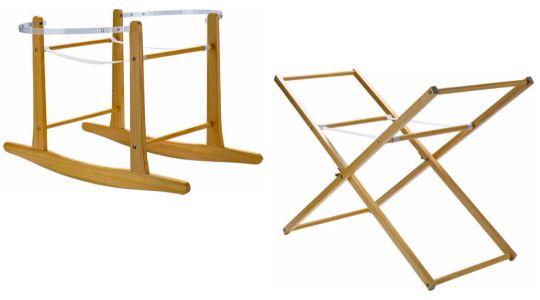 Moses Baskets don't tend to come with stands when you buy them, and that can really bump the price up if you want a good quality one. Argos have reduced two Kub Wooden Moses Basket Stands and they are super cheap. The Kub Wooden Folding Moses Basket Stand was £14.99 now £4.99 and the Kub Wooden Rocking Moses Basket Stand was £19.99 now £7.99. Both are a great buy.
The Kub Folding Moses Basket Stand is most like your regular type of stand. It's a steal at £4.99 as it is wooden. Like it's name suggests it does fold which makes it easy to store or transport to Granny's house or wherever you wish to take it.
The difference with Kub Rocking Moses Basket Stand is that the stand will move gently back and forth. This is great for those babies that need a little help drifting off to sleep.
You can Reserve and Collect the Kub Wooden Moses Basket Stand from Argos for FREE or pay £3.95 to have it delivered to your front door.